Medication and access to health advice and support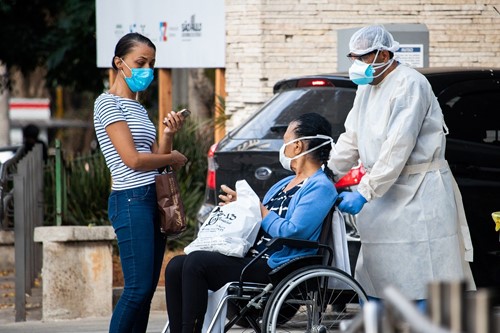 CQC has updated its medicines FAQs for adult social care services. These cover:
Visit the CQC website for more information and to find medicines information by type of care setting.
You can sign up for alerts to keep up to date with any changes - for example, via the Medicine Health and Regulatory Authority's (MHRA's) Central Alerting System.
The MHRA also has a web-based cascading system for issuing patient safety alerts, important public health messages and other safety critical information and guidance to the NHS and others, including independent providers of health and social care.
Coronavirus (COVID-19) reuse of medicines in a care home or hospice
Standard operating procedure on how to run a safe and effective medicines reuse scheme in a care home or hospice during the coronavirus outbreak.
NHS Medicines Optimisation in Care Homes (MOCH) pharmacy teams
In partnership with GP practices, these teams support care homes with medication queries.
The MOCH team will also complete medication reviews for those residents who are new to a care home, recently discharged from hospital, or those who providers have concerns about.
If you would like to use the services please contact your local MOCH team and they will respond within two working days.
Please note that you should not send patient sensitive information unless you have a secure email address.
Below are some of the areas where the team can offer support and/or guidance to care home staff and your residents.
Directory of Services (DoS) for community pharmacies
The opening times for local pharmacies can be accessed via this website. There is a contractual obligation that pharmacies keep this information up to date.
Locally Commission Service (LCS) for Palliative Care
The following pharmacies are part of the LCS for Palliative Care (end of life medication). These pharmacies should have in stock all medicines required to fulfil resident's palliative care prescriptions.
Reuse of Medication Policy
The NHS and the Department of Health and Social Care published the Running a Medicines Re-Use Scheme SOP on 28 April 2020. The pan-Sussex MOCH team published supplementary guidance to support homes with the implementation of this SOP.
Proxy ordering
Proxy ordering access enables care homes to order medication monthly and also interim/acute prescriptions via the practice's online portal. Using this portal provides care homes with an electronic audit trail of what medicines have been ordered. This removes the need to make copies of repeat slips prior to submission to the GP practice. Online ordering of medication should be less time consuming for care home staff. Please note that this can only be discussed with your GP practice if you have access to an nhs.net email address.
For more information on online access for proxy ordering please see here.
Regional Medicines Optimisation Committee (RMOC)Homely Remedy guidance
The CQC states that 'a homely remedy is a medicinal preparation used to treat minor ailments; it is purchased over the counter and does not require a prescription. They are kept as stock in the care home to allow access to products that would commonly be available in any household'.
Having a robust Homely Remedy Policy in place ensures that residents have access to medicines to treat minor ailments. Please see the RMOC Guidelines  for further information with regards to Homely Remedies procedures.
Discharge from hospital guidance
Western Sussex Hospitals Foundations Trusts, Brighton & Sussex University Hospitals and Surrey and Sussex Healthcare are all currently issuing patients discharged from hospital with 14 days supply of medication.
If you have a patient discharged into your care home from hospital or a new resident admitted to your home, please let your NHS   Medicines Optimisation in Care Homes (MOCH) pharmacy team know, as they will ensure that these residents are prioritised for a medication review.  As part of their medicine review process, they will endeavour to align and synchronise the resident's  medication so that it falls into the monthly cycle of the home.
If you have a resident admitted to hospital, please inform your community pharmacy team so that the person's medication is not supplied with the monthly cycle.
General enquiries unrelated to care homes
West Sussex NHS Clinical Commissioning Group's Medicines management team can be contacted for general advice around use of medications, as follows.
Crawley, Horsham and Mid-Sussex areas - wsxccg.nmmt@nhs.net.

Coastal West Sussex areas - wsxccg.smmt@nhs.net.
In all areas of West Sussex, GP practices are able to offer extra support to their care home patients. A number of different support packages are available dependent on location and to cover the period of the COVID-19 pandemic. 
Not all practices will have capacity to provide all of these services. Contact your local GP to see what is available.
Crawley, Horsham and Mid-Sussex areas
GPs can provide support to local care homes by reviewing new admissions and again after six months and also by visiting the home weekly.
Coastal West Sussex area
GPs can support care homes under the local Quality Improvement Scheme  with an assessment of new admissions and ongoing review every six months.
New arrangements for COVID-19
Extra support has been put in place for care homes. Each care home will have a named clinical lead they are able to contact and details of these will be sent out to care homes shortly. This clinical lead is not a direct patient-facing role but is the conduit for care homes to access health care support in a crisis.
GPs are now able to offer extra access to care home patients on weekends and bank holidays for telephone or video consultations. Additional support could include the following features:
Direct telephone or video consult access to a GP or Advanced Nurse Practitioner (ANP).
Care home teams to call GP/ANP before, and in preference to, calling 111/999 in the event of an urgent or emergency medical problem arising (unless the situation and care plan make 999 the most appropriate action).
GP having remote access to patient records and be able to prescribe electronically (ePS).
GP/ANPs to proactively call each care home, at an agreed time(s), at least once each day that they are covering.
GP/ANPs are not expected to do face-to-face assessment as part of the additional access.
The additional support can operate between 8am to 10pm, on weekends and bank holidays. Each practice or group of practices range of additional support will be determined by its capacity, so please contact your practice as hours may vary.
This additional support is temporary, for the period of the COVID-19 pandemic. Practices will continue to provide their usual support to care homes during regular operating hours.
Practices are also able to offer support to residents of care homes who are resident on a temporary basis, for example in step down beds. Under this scheme, residents will be registered as temporary residents of the practice.
Recent national guidance has stated that support for care homes at this time should include a weekly check-in and support to develop personalised care plans. This could be under one of the schemes listed above, but where these are not available, alternative arrangements will be put in place. Confirmation of these arrangements will be available shortly.
Sussex Community NHS Foundation Trust provide community nursing support to the county's care homes, as follows.
Crawley, Horsham and Mid-Sussex areas
Care homes can contact the Care Homes Support Team (previously the Integrated Response Team). This is a multi-disciplinary team, including a dietitian.
The team has a rolling training programme in place that all care home providers are eligible to book onto and it can also provide bespoke support to care homes, when required.
The team can be contacted via email at SC-TR.CareHomes-North@nhs.net or by phone on 01293 301009. 
Coastal West Sussex areas
Local care homes are supported by the Admission Avoidance Matrons (AAMs). The AAMs sit within the Rapid Assessment and Intervention Team and are focused on reducing avoidable hospital admissions. They primarily work closely with care homes and care homes with nursing to support patients with deteriorating health who can't be managed safely within the available resources of the home.
AAMs provide expert support to improve care planning and delivery and also liaise with other appropriate support services, including primary care, to ensure there is a coordinated plan in place. As well as dealing with patients in an acute episode, AAMs also work proactively with homes to provide training and information to help improve patient care and reduce the incidence of acute episodes.
AAMs will respond to requests for support but also contact homes periodically to promote the service and build relationships.
The AAMs can be contacted by phone via OneCall on 01903 254789.
West Sussex NHS Clinical Commissioning Group's IPC team provides advice and support to care homes and can be contacted via sxccg.infectionprevention@nhs.net for any queries around use of PPE or infection prevention and control issues.
The team is also contacting homes which may need support, including those which have had an outbreak of COVID-19.
The British Lung Foundation and Asthma UK have set up a post- COVID hub to bring together information about the longer-term impact of COVID-19.
It includes a helpline for offering support to patients with post COVID-19 breathlessness and could be helpful if you are supporting people who have recovered, or are recovering, from COVID-19.
The helpline is available Monday to Friday 9am – 5pm on  0300 222 5942 . 
The Learning Disabilities Health Facilitation Team
 A team of nurses specialising in facilitating health care for people with a learning disability age 14+. This includes an acute liaison service for people with learning disabilities  when they are admitted to hospital or attend as an outpatient. During COVID-19 this is a 7 day a week service.
The team can be contacted by phone on 01403 227 000 ext. 7341.
Hospital Passports
Hospital passports for people with learning disabilities and autism are designed to communicate a person's needs to doctors, nurses and any other healthcare professionals. It is important to include all relevant information in the passport so that it can be used quickly in an emergency.
Sussex Mental Healthline offers crisis care for people with significant and escalating mental health concerns.
The Healthline operates 24 hours a day, seven days a week and is available to people of all ages and their carers.
Phone: 0300 5000 101