Our staff
As at March 2020 we employed 1,011 staff (excluding casuals) in Adults' Services across a range of disciplines, of whom 247 were social workers.
All qualified social workers are required to register as individual practitioners with Social Work England and occupational therapists with the Health and Care Professions Council.
The national Assessed and Supported Year in Employment (ASYE) is a twelve month, employer-led programme of support and assessment for newly qualified social workers. The programme supports social workers to strengthen their learning and develop their skills and professional confidence in an employment environment. Although it is not a requirement for registration with Social Work England, social workers need to successfully complete the programme in order to continue to be employed as registered social workers for the County Council.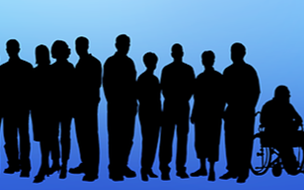 Adults' Services works in partnership with the University of Chichester to support the development of newly qualified social workers during their ASYE. We have 26 newly qualified social workers who commenced their ASYE during 2019-20 and 13 who successfully completed.
We supported 10 student social workers on placements, and an additional four placements to our internally sponsored trainees.
Last updated: 11 January 2021