Improving your health and wellbeing will help you to enjoy other areas of your life.
Wellbeing is a friendly and impartial service that can support you to make improvements to your health and wellbeing. Most of the services are free or at very low cost. 
There are six Wellbeing hubs which cover different parts of the county. You can find out  more about local activities and support services by talking to a friendly Wellbeing adviser - either in person or over the phone. See below for the contact details of your local Wellbeing hub.   
The teams in your local area can give you advice and support on how to improve your health and wellbeing, such as how to stop smoking, how to become more active or making your meals healthier.
Loneliness
Loneliness is particularly common among older people, although it may affect people of any age. It can contribute to mental health problems, such as depression.
We all have a need for social contact and relationships and there are services available if you are feeling alone.
You can look for activities in your local area that might help you. Perhaps you could join a group related to an interest or a hobby or find out about lunch clubs in your area.
The Getting out and about  page of West Sussex Connect to Support has information about special interest groups, support groups, lunch clubs and community transport that can help you get out the house.
The Royal Voluntary Service's Good Neighbours Befriending scheme offers practical help and company for older people. This might include: helping you to join activities in your local area, directing you to appropriate services that meet your needs, or arranging for some company or a chat with regular visits from a volunteer.
An important part of the service is to ensure that 'safe and well' checks are carried out by volunteers during all home visits, and they will monitor any change in someone's health, wellbeing or home surroundings.
You can find out more by visiting the Royal Voluntary Service website.
Guild Care's Creating Connections service is a prevention service for those aged 65 and over in Worthing.  It aims to reduce loneliness and isolation through companionship, shared interests and community participation.
Contract Hire
Dial-a-Ride
Volunteer Car
Group Hire
Accessible and community transport 
Dial-a-Ride
Royal Voluntary Service
Worthing Shopmobility
Wheelchair accessible taxis
Staying active to reduce the risk of a fall
Anyone can fall, but falls in over 65s have a particularly big impact.
You can reduce your risk of a fall by increasing your levels of physical activity.  Contact your local wellbeing hub to see what's happening in your area or read our Getting out and about page for local groups and activities to  improve your mobility and keep you healthy.  This is really important to maintaining independence and health in later life.
Or watch this Stay Active at Home video - a series of simple exercises to improve your strength and balance and to help keep you on your feet.
Have a look round your home for trip hazards
Have a look for trip hazards such as trailing cables and rugs. For a home assessment to find those hidden risks, the Prevention and Assessment Team provide information, education, advice and support.
Wear shoes with a good grip when walking outside to prevent slips and falls.
For people who have a history of falling the Falls and Fracture Prevention Service (West Sussex) at Sussex Community services will be able to provide tailored help and assistance.
You could also have a look at the "Get Up and Go" exercises 
Get Up and Go exercises have been developed specifically for older people, to help them feel more confident doing daily tasks, such as walking and going from a sit to a stand.
Prevention assessment team (PAT)
The Prevention Assessment Team is a multi-disciplinary team that supports people to maintain their independence, health and wellbeing in their own homes.
PAT normally works with people who do not receive other specialist health or social care services. It provides information, advice and access to practical and emotional support, either over the phone or with a home visit.
checking your general state of health and wellbeing
identifying ways to retain your independence
enabling you to make any changes
letting you know what resources may be useful to you
providing assistance to access practical and emotional support.
The teams have close links to carers' services, local day centres, Sussex Partnership NHS, Wellbeing hubs, the West Sussex Fire and Rescue Service, Neighbourhood Watch and many other voluntary and community services.
Watch our short film about the teams and the work they do.
For more information about the PATs service, you can download a copy of this leaflet.
Assistant Care Managers from WSCC
Health Advisers from Sussex Community Trust
Social Care workers & Community Support workers from Guild Care & Age UK West Sussex
Support workers for the PAT Working Age Service from the Richmond Fellowship.
There are three general teams that cover different parts of West Sussex and one specialist team for working-age adults that covers the whole county.
Keeping Warm
Wear lots of thin layers. Cotton, wool and fleecy fibres are particularly good for maintaining body heat. Try to stay inside  during very cold weather if you have heart or respiratory problems. 
Visit Housing to read more about keeping your home warm and find information about payments, discounts and grants. 
Healthy eating
If you are struggling to eat healthily, manage your weight, or make meals for yourself at home, there is support available on the  West Sussex Wellbeing website.
If you or someone you know can't afford to buy enough food, you may be able to get some short-term help from your local food bank. 
It is important to eat well and regularly and to drink plenty of fluids to stay healthy.
Eating well helps you stay active and get more out of life.
A healthy diet can also improve your physical and mental health.
If you live alone, cooking a meal for one can sometimes seem like an effort. Sharing a lunch with someone once or twice a week, going to a café or pub now and again or joining a lunch club could help.
Visit the Getting out and about section to see what is available near you and transport options.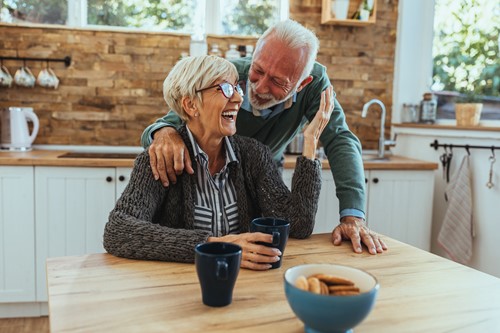 Cooking for yourself can sometimes be difficult. If you can't open tins, stand for long periods or pour the kettle, there are many pieces of equipment that could help you. Have a look at the Equipment page for some ideas.
If you have difficulties preparing or eating food, you could get advice from the Disabled Living Foundation.
If you can no longer shop, you could have your shopping delivered to your house or consider having meals delivered.
If you have difficulty making meals or managing at home, you can phone West Sussex County Council's Adults' CarePoint to ask for an occupational therapy assessment. You can also ask for a reassessment if your condition has changed significantly.
Phone: 01243 642121
NGT Text Relay: 18001 01243 642121
(Available as a downloadable app for computer tablets and smartphones. Helps people with speech and hearing difficulties.)
Email: socialcare@westsussex.gov.uk
Opening hours: Monday – Friday, 9.00am - 5.00pm (excluding bank holidays).
The Meals on Wheels service in West Sussex is provided by Health and Independent Living Support (HILS). HILS delivers Meals on Wheels across West Sussex, 365 days a year, whatever the weather. Every visit includes delivery of a hot meal and dessert, along with a caring welfare check. You can order meals as a one-off, temporarily, or for as long as you would like them.
Our meals are delivered hot and ready to eat between 11am and 2pm, and you will usually receive your meal at a similar time every day. Meals are delivered by a team of friendly and caring drivers who are all Disclosure and Barring Service (DBS) checked and wear identification badges. You can choose from a menu that offers a wide range of delicious and nutritious hot meals and desserts, and specialist meals to suit your cultural, religious, or dietary requirements can also be provided. This service is chargeable, for our prices and further details please call us, or check our website.
Email: westsussex@hils-uk.org
Phone: 0330 2000 103
Last updated: 09 November 2023
Websites you may be interested in