Sometimes, living independently isn't easy. Trying to get or keep a home can be a real struggle, but there are a variety of different housing options and support services available in West Sussex that could make it easier for you to manage where you are or choose somewhere more suitable to move to.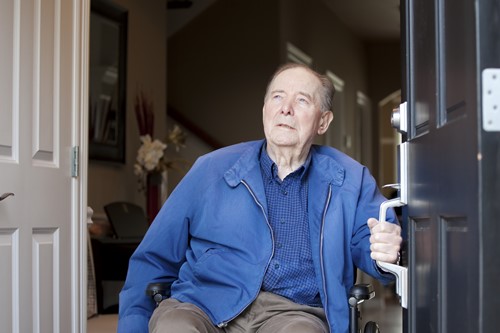 If you are disabled, you may be eligible for a disabled facilities grant to help you stay in your own home. Find out more about disabled facilities grants on the Disability Grants website.
If you like the area you are in and have a good network of support, it may be wisest to stay close. Could you move somewhere nearby? If you are a council or housing association tenant, you may be able to exchange your home for a smaller one.
Keeping your home warm
Insulating your home not only helps to keep you warm and healthy, but it will also help to keep your heating costs down.
Fit draught proofing to seal any gaps around windows and doors.
Make sure that your loft has at least 10 - 11 inches (270 mm) of insulation. Any home with 4 inches (100 mm) or less should have it topped up.
If you have wall cavities, make sure that they are insulated too.
Insulate your hot water cylinder and pipes.
Draw your curtains at dusk to help keep the heat generated inside your rooms
Make sure that your radiators are not obstructed by curtains or furniture.
Free home fire safety check
West Sussex Fire & Rescue can carry out free home fire safety checks on your home if you are older or vulnerable. They will offer advice on how to make you home safer and where appropriate fit smoke alarms and other specialist equipment.
To find out more or to book your visit call: 0800 328 6487
You can also find out about smoke alarms at on the West Sussex County Council website.
Winter Fuel Payment Older people can get between £100 and £300 from the Government to help with heating bills. To find out if you are eligible, go to the Winter Fuel Payment page of the Gov.uk website or call the Winter Fuel Helpline on,Telephone: 03459 15 15 15
Telephone from outside the UK: +44 (0)191 218 7777
Textphone: 0345 606 0285
Textphone from outside the UK: +44 (0)191 218 7280
Monday to Friday, 8am to 6pm.
Cold Weather Payment If you are on certain benefits, you may be able to get a Cold Weather Payment. Contact your local Jobcentre or go to the Cold Weather Payment page of the Gov.uk website to find out if you are eligible.
Warm Home Discount The Warm Home Discount is an annual £140 rebate on energy bills for people who get the Guarantee Credit element of Pension Credit and for some low-income households. To find out more, go to the Warm Home Discount page of the Gov.uk website or call 0345 603 9439 Monday to Friday, 8:30am to 4:30pm
Fuel Direct scheme If you are receiving benefits or pension credits and are in debt to your energy supplier, you may be able to have your payments taken directly from your benefits. Go to the Help paying bills using your benefits page of the Gov.uk website to find out more. You can also contact your local Jobcentre or call the Pension Service on 0800 731 7898 to see if you are eligible. If you have been disconnected or are being threatened with disconnection, call the West Sussex CAB on 0344 477 1171 or go to the Adviceguide website.
Grants for home improvements Grants and offers, such as free insulation and money for heating improvements, may be available to help you make your home warmer and more energy efficient.
Alternatively you can call the free Simple Energy Advice Service on 0800 444202, Monday to Friday: 8am to 8pm, Saturday and Sunday: 9am to 5pm for information or look at the Grants and support England page of the Simple Energy Advice website.
Incorrectly installed, poorly maintained or poorly ventilated cooking and heating appliances can give off carbon monoxide - a poisonous gas which you can't see, smell or taste but which causes approximately 30 accidental deaths per year in England and Wales. Low levels of carbon monoxide can cause serious harm to your health if breathed in over a long time.
Have your cooking and heating appliances which burn carbon-containing fuels (such as gas, coal, charcoal, oil and wood), as well as flues and chimneys serviced at least once a year by a suitably trained, reputable, registered engineer.
Don't block flues or chimneys, even if they are draughty, because these allow carbon monoxide to escape.
Fit an audible carbon monoxide alarm that meets European Standard EN50291.
Follow all instructions for the appliance, keeping rooms well ventilated and stop using an appliance if you think it may be giving off carbon monoxide gas.
If you suffer from repeated or severe headaches, symptoms similar to that of food poisoning or viral infections, flu or simple fatigue and think they could be caused by carbon monoxide, see your doctor at once and say you think it might be carbon monoxide poisoning.
For general health advice and information on carbon monoxide poisoning, visit the NHS website.
Further information and advice
If you, or someone you know, requires some additional help, go to our Care options section and find out more about the different options available to support you, such as sheltered and retirement housing and extra-care housing schemes.
If you are looking for housing advice or are concerned about a relative or friend, you can contact your district or borough council's housing department.
For information about different housing options, including sheltered housing and affordable rented housing.
Last updated: 03 August 2023
Websites you may be interested in