Housing
Sometimes, living independently isn't easy. Trying to get or keep a home can be a real struggle, but there are a variety of different housing options and support services available in West Sussex that could make it easier for you to manage where you are or choose somewhere more suitable to move to.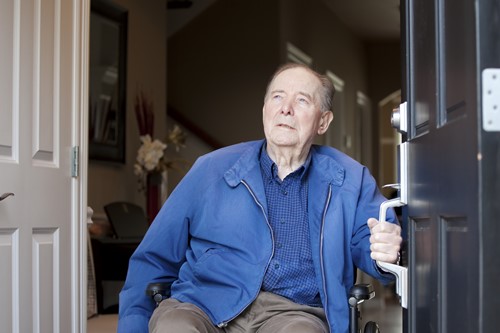 If you are disabled, you may be eligible for a disabled facilities grant to help you stay in your own home. Find out more about disabled facilities grants on the Disability Grants website.
If you like the area you are in and have a good network of support, it may be wisest to stay close. Could you move somewhere nearby? If you are a council or housing association tenant, you may be able to exchange your home for a smaller one.
If you need help to prevent a crisis, contact your local Citizens Advice or
Call Adviceline
Monday–Friday, 9.00am – 5.00pm.
Phone: 0344 477 1171 (or 0300 330 0650 if calling from mobile)
Keeping your home warm
Insulating your home not only helps to keep you warm and healthy, but it will also help to keep your heating costs down.
Fit draught proofing to seal any gaps around windows and doors.
Make sure that your loft has at least 10 - 11 inches (270 mm) of insulation. Any home with 4 inches (100 mm) or less should have it topped up.
If you have wall cavities, make sure that they are insulated too.
Insulate your hot water cylinder and pipes.
Draw your curtains at dusk to help keep the heat generated inside your rooms
Make sure that your radiators are not obstructed by curtains or furniture.
Free home fire safety check
West Sussex Fire & Rescue can carry out free home fire safety checks on your home if you are older or vulnerable. They will offer advice on how to make you home safer and where appropriate fit smoke alarms and other specialist equipment.
To find out more or to book your visit call: 0800 328 6487
Housing support services for older people
Peabody runs a service called 'Here to Help' which supports older people living in sheltered housing in Chichester, Arun and Mid Sussex. You can use this form to refer yourself to the service. 
Email: HeretoHelp@peabody.org.uk
Phone: 01273 468100
Further information and advice
If you, or someone you know, requires some additional help, go to our Care options section and find out more about the different options available to support you, such as sheltered and retirement housing and extra-care housing schemes.
If you are looking for housing advice or are concerned about a relative or friend, you can contact your district or borough council's housing department.
Last updated: 02 July 2020
Websites you may be interested in