Symptoms of dementia
The Alzheimer's Society has developed a simple explanation of what dementia is, its causes and symptoms. It also describes some of the different types of dementia.
On the Alzheimer's Research UK website you can also tour the brain and discover what different areas of the brain do and how they can be affected by dementia.
More information about the possible symptoms of each type of dementia can also be found on the NHS website.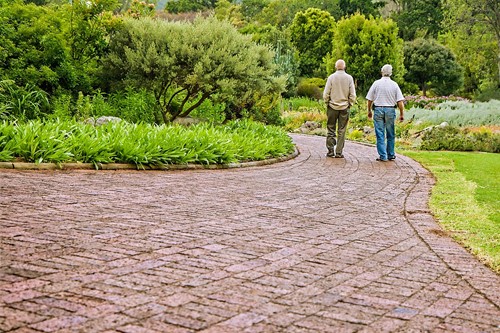 If you are worried that you may be developing dementia, please contact your GP to discuss your concerns. It might be helpful to have someone with you for support.

Support from the Alzheimer's Society

The Alzheimer's Society is providing information, advice and support for carers and people affected by dementia during the pandemic. This support is available across West Sussex.
Phone assessments, provided by dementia advisers and support workers, are available for all new referrals. Those who are considered most vulnerable are being prioritised and referred to relevant services.
Companion Calls is a new interim service that aims to combat loneliness and isolation caused by the pandemic. The service co-ordinates volunteers to have friendly chats over the phone with people who use dementia services.
Dementia Talking Point is a free 24-hour online community where people affected by dementia can receive valuable support. 
People can contact the local office for support throughout the outbreak. There is a team of home-based staff and volunteers available. Email Sussex.Helpline@alzheimers.org.uk or phone 01403 213017.
The Dementia Connect support line remains open daily on 0333 150 3456.
Further support
The IDEAL project at the University of Exeter has produced leaflets for people affected by dementia and their carers. These contain five key messages about how people with dementia can stay well during the coronavirus epidemic.
M4D Radio - a new internet radio station created for people living with dementia and their carers. It is free to listeners and available 24 hours a day, 7 days a week. The five available channels play music that evoke memories based on the year when a listener was born.
Helping Hand Card Scheme from Metrobus – the free cards hold brief information to let the driver know about a person's needs and can also be used to advise if they are exempt from wearing a face covering on public transport
Benefits of early diagnosis
A timely diagnosis and prompt follow-up support helps people with dementia and their families to take control of their lives and manage their condition well. Benefits include:
opening the door to future care and treatment;
helping people to plan ahead and make important decisions on their care and support needs and arrange financial and legal matters; and
enabling people with dementia and their families to receive practical information, advice and guidance.
Vee is the daughter of an amazing mother, who was diagnosed with early Alzheimer's
Despite my mother being diagnosed, she is still amazing, thoughtful and caring. I have great admiration for how selfless she still is regardless of her diagnosis. She is always still so positive, happy and will always greet you with a smile. She still likes to take care of me with lovely home cooked food.
The early signs were that my mother was not able to retain information, she was forgetful and took a while to process certain words. The family noticed you would have to be more patient if you wanted to converse with her and at times you could see that she seemed overwhelmed when being asked questions or going to new or crowded places.
The diagnosis came as a surprise and was not expected at all. However, it was good for my parents to understand what it is. It has also explained some of my mother's behaviours which in turn has provided us with awareness as well as finding ways to best support her.
Getting a diagnosis
Contact your GP to talk about your symptoms. It might be helpful to ask someone to support you through this process. 
If you are concerned that someone you know may have dementia and are unsure how to help them, you can find useful information by visiting the NHS website.
Dementia Assessment Service
The Memory and Dementia Assessment Service provides early assessment, diagnosis, treatment and care if you or someone you care for, have difficulties with dementia.  The service includes doctors, nurses, psychologists and occupational therapists.  It works in partnership with dementia advisers.
Referral to the service is primarily through your GP but can also be made through health professionals in community teams, hospital consultants and learning disability services.
Currently, to protect you and NHS staff and prevent the spread of coronavirus, initial appointments may be online or by phone.
Dementia Advisers - supporting you after diagnosis
Following your diagnosis, you will be contacted by a Dementia Adviser from the Alzheimer's Society who will offer support to you and your family and friend carers.
The adviser will give you information and advice and signpost you to other support, including information sessions such as Understanding Dementia, Living Well with Dementia and the Carers Information and Support Programme (CrISP).
Dementia Guide
The Dementia Guide is an essential resource for anyone who has recently been told they have dementia. Produced by the Alzheimer's Society, it explains the treatments, support and services that are available.
The Guide is available in different languages as well as a video version in British Sign Language.
Last updated: 27 April 2022