A physical disability is the long-term loss or impairment of part of your body's physical function. It can involve difficulties with walking and mobility, sitting and standing, use of your hands and arms, sight, hearing, speech, breathing, bladder control, muscle control, sleeping, fits and seizures or chronic tiredness. A physical disability may be genetic. It can also come about through something that happened before or during birth or later in life through an illness or injury. A physical disability may be obvious, such as loss of a limb, or less obvious, for example, epilepsy.
Amputation
Accident or injury
Acquired brain injury (ABI) and stroke
Arthritis
Cerebral palsy
Epilepsy
Genetic disorders
Illnesses or substances a mother was exposed to during pregnancy
Meningitis
Motor Neurone Disease
Multiple sclerosis
Muscular dystrophy
Parkinson's
Polio
Problems during birth
Respiratory (lung) disorders such as COPD
Spina bifida
You may have just one or more than one disability and the same condition can affect different people in different ways.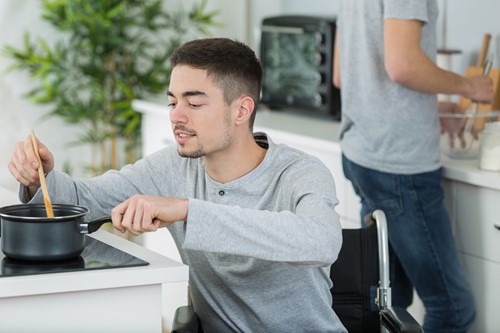 If you have a long-term illness or a disability, you may be able to claim one or more of the following benefits.
Employment and Support Allowance (ESA) is for people of working age people whose illness or disability limits their ability to work. It is designed to cover everyday living costs such as food and bills.
Personal Independence Payment (PIP) is for people aged 16-64 with a disability. It is designed to help with some of the extra costs you have because of your disability.
Attendance Allowance is for people over 65 who have a severe disability.
If you need to make adaptations to your home, you may be able to get a disabled facilities grant to help with the cost.
The Blue Badge scheme helps people with mobility problems to park close to where they need to go. It applies whether you travel as a driver or a passenger. The scheme also applies if you are registered as blind or have an upper limb disability which makes it difficult to operate parking meters. If you have a blue badge, you may be able to apply for a disabled parking bay outside your house. For more information, go to the disabled parking section of the West Sussex County Council website.
There is no register of people in West Sussex who are physically disabled, but if you need proof that you are disabled, you can request confirmation of your physical disability.
If you have asked Adults' Services to assess your care and support needs, in order to help promote your wellbeing and to help you maintain a healthy and independent lifestyle, your details will be recorded on our electronic case recording system.
We will direct you to your GP to obtain specialist confirmation that you have a physical disability if you:
are not known to us 
have been assessed at some time, but are not recorded on our system as having a physical disability. 
Below is a template letter for you to give to your GP.  Ask your GP to return it to you once completed.
Medical Practitioner Disability Confirmation letter template.
Contact Adults' CarePoint on the details below for more information about this process.
Staying independent
West Sussex County Council offers a number of different services that can support you to stay independent. You can find out more about these services by following the links to the relevant sections of this website. Occupational therapy can help you make the most of your abilities and reduce your reliance on help from others. The Regaining Independence Service offers short-term support if you are recently become disabled or have experienced a setback and you need help regain skills or confidence. If you have a physical disability you may also be able to borrow equipment from the Equipment Loan Service.
There are also specialist day services that offer support for people with a physical, sensory or memory impairment and people with an acquired brain injury.
You will need to have a social care assessment from West Sussex County Council to access these services. A social care assessment will help you find out what services might suit you and whether you are eligible for funded social care support from the County Council. You can get further information about these services and request an assessment by contacting West Sussex County Council's Adults' CarePoint.
Adults' CarePoint Online: online enquiry form
Phone: 01243 642121
NGT Text Relay: 18001 01243 642121
(available as a downloadable app for computer tablets and smartphones. Helps people with speech and hearing difficulties.)
Email: socialcare@westsussex.gov.uk
Opening hours: Monday - Friday, 9am - 5pm (excluding bank holidays).
If you have a condition or a disability that requires long-term medical treatment in your own home or in a care home, you may be eligible for NHS Continuing Healthcare (CHC), which is an NHS-funded package of care and support.
You can choose to have the funding in the form of a personal health budget, which means you get the money for your care directly and have more control over how it is used.
NHS Continuing Healthcare is different from funded social care from the county council. You can request an assessment for Continuing Healthcare from your GP. There is more information about personal health budgets on the NHS  and Coastal West Sussex CCG websites.
Independent Lives helps disabled people in West Sussex to live as independently as possible. It provides information and advice to disabled people and their families as well as a range of support services, particularly around recruiting and employing a personal assistant and managing social care direct payments and personal health budgets. It is a user-led organisation that gives disabled people a voice to raise awareness of disability and influence policy.
Phone: 08456 012399 or 01903 219482
Textphone: 01903 823173
Email: info@independentlives.org
Workability helps people with disabilities in West Sussex to get training, volunteering or paid work opportunities. This service specialises in supporting people with disabilities, who have autistic spectrum conditions, brain injuries, and individuals recovering from drug or alcohol dependencies.
Phone: 01903 730044
Textphone: 01903 735957
Email: workability@impact-initiatives.org.uk
Last updated: 05 December 2023
Websites you may be interested in